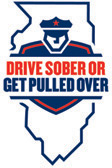 The Illinois State Police and local police departments across the state begin a statewide crackdown on drunk driving on the July 4th holiday. The crackdown takes place every year under the Drive Sober or Get Pulled Over and Click It or Ticket programs.
The mechanism for increased DUI enforcement is the roadblock. Police officers may legally stop vehicles on the roadway without reasonable suspicion of a crime provided there are procedures in place that stop vehicles randomly and only for a brief period of time. If the stop gives a police officer reasonable suspicion to believe a crime occurred, then the driver can be detained for additional investigation.
Police departments are expected to set up multiple roadblocks to check seat safety belts and also check for impaired drivers.
More than 250 law enforcement agencies are participating in the mobilization, according to the Illinois Department of Transportation (IDOT). Almost 175 checkpoints will be in place across the state. Police officers will also engage in more than 500 patrols designed to intercept intoxicated drivers.
Funding for the mobilization comes at a time when Illinois cities are struggling to pay their police officers. The National Highway Traffic Safety Administration (NHTSA), a federal agency, is responsible for paying for the enforcement effort.
Statistics show that fatal accidents have increased substantially over the last year. Up to this point last year, 381 people died in fatal accidents, whereas 449 people have died so far this year.
Last year during the July 4 holiday, 13 people were killed on Illinois roadways, and among them 9 deaths were attributed to alcohol.
A police officer at a roadside checkpoint who makes observations of an odor of alcohol, red, bloodshot or glassy eyes, slurred speech, poor driving, etc. may have grounds to detain the driver for field sobriety testing. While the detention is mandatory for the driver, participation in field sobriety testing is voluntary. It can be refused.