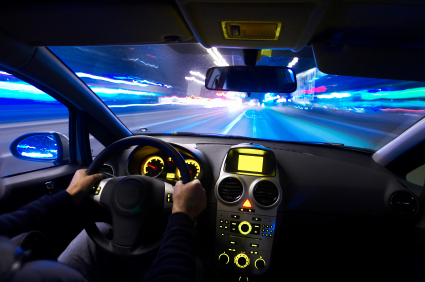 A speeding ticket in Illinois can result in a fine and traffic school. In some instances, it can result in a suspended license. Recent changes in the law make certain tickets more serious.
Beginning in 2011, a speeding ticket for driving 31 mph over the limit is a criminal offense. The new law makes it a Class B misdemeanor. In Illinois, a Class B misdemeanor has a possible penalty of up to 6 months in jail, and fine of $1,500. See 625 ILCS 5/11-601.5(a).
A ticket for speeding 40 mph over the limit is a Class A misdemeanor. The sentence for a Class A misdemeanor can be up to one year in jail and a fine of $2,500. See 625 ILCS 5/11-601.5(b).
The offense of speeding 40 mph over the limit was previously called aggravated speeding, and now because of the change in the law, a ticket for 30 mph over the posted limit is also aggravated speeding.
For defendants who are found guilty or plead guilty in traffic court, a sentence of supervision is the best outcome.
Supervision is a sentence where the court defers judgment until a later date. During this period of time, the defendant is considered to be supervised by the court. If the defendant does not violate the law and complies with all the terms and conditions of supervision, then the charge will be dismissed. If the defendant violates the law or fails supervision, then a conviction will be entered against him.
Although a supervision will appear on the defendant's driver's abstract (ie, driving record), it is not a conviction. And thus it does not result in the assignment of points on the defendant's driver's license.
A conviction causes the Secretary of State to impose points a someone's driver's license. But supervision is not available for speeding 40 mph or more over the limit. This type of speeding ticket may threaten to suspend a persons' driving privileges.
Driver's license points determine the length of a suspension. In some cases, too many points can result in a revoked license.
The Secretary of State will suspend a person's license according to the following rules:
0 through 14 points – no action.
15 through 44 points – 2 month suspension.
45 through 74 points – 3 month suspension.
75 through 89 points – 6 month suspension.
90 through 99 points – 9 month suspension.
100 through 109 points – 12 month suspension.
110 or more points  – one year revocation.
See Title 92 of the Illinois Administrative Code, Section 1040.30.
A ticket for 30 mph over and 40 mph over the limit both result in the imposition of 50 points. See Section 1040.20.
Because the law does not allow the court to sentence a defendant to supervision for speeding 40 mph or more over the limit, this is a serious offense and an attorney should be consulted.